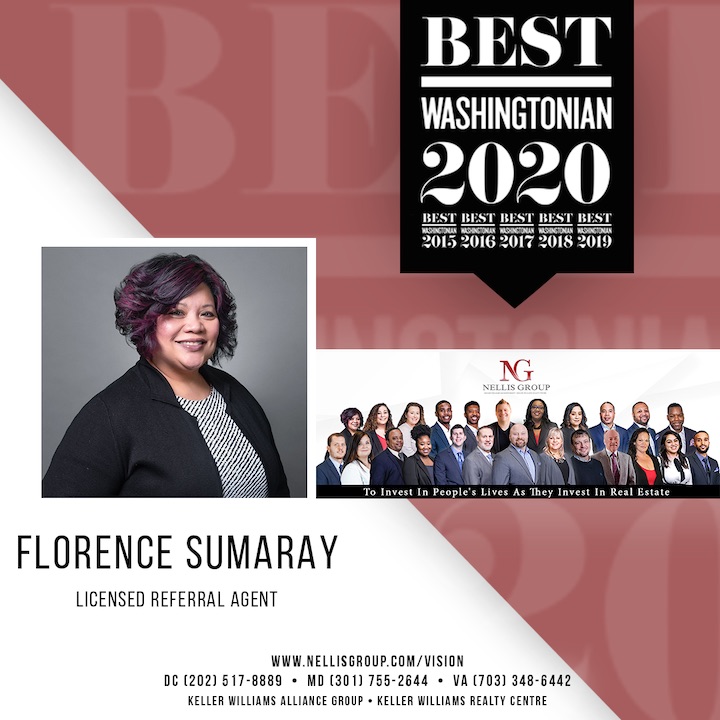 The Nellis Group continues our celebration of being chosen as The Washingtonian's BEST for the 6th year in a row by highlighting each of our expert agents with ONE WORD.
Florence Sumaray: Zealous.
Florence (Flo to the NG family) is a bright, amiable ball of fun overflowing with positivity. Always eager to help, Flo's zeal for people allows her to be tuned in, thus facilitating connections via events, open houses, and especially social media.
Always a favorite with our clients, Flo has the distinct ability to understand people's needs and connect them with the right NG agents.
Flo is as zealous about connecting people as it relates to real estate as she is about connecting people regarding her other passions outside of NG. An avid cyclist, fitness enthusiast, foodie, selfie taker, and friend, Flo spends a lot of time enjoying the best of D.C. with friends and family and sharing her adventures on her social media platforms.
Thank you, Flo, for all of your hard work and the zeal you bring to NG!
#TheNellisGroup#NellisGroup#NellisGroupServesMetroDC#TheNellisGroupServesMetroDC#WashingtoniansBEST#DMVrealestate