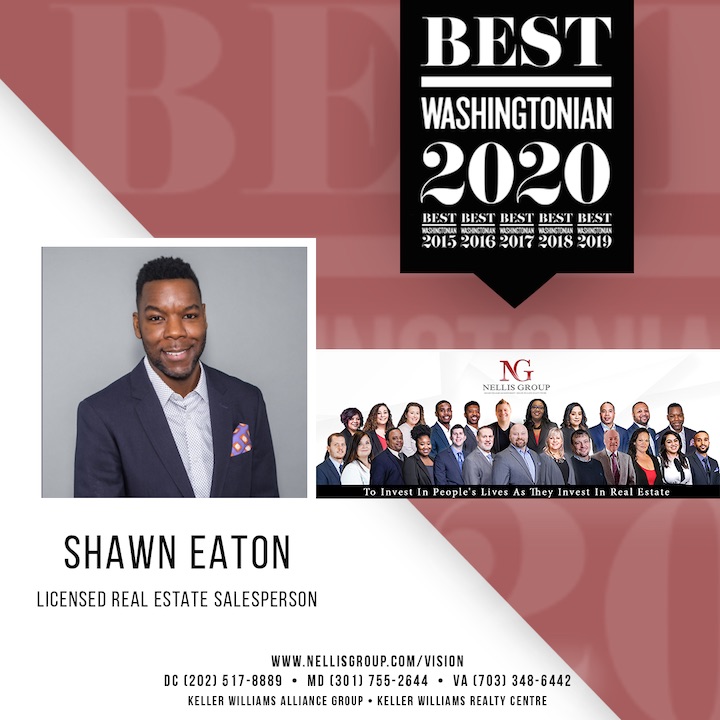 The Nellis Group continues our celebration of being chosen as The Washingtonian's BEST for the 6th year in a row by highlighting each of our expert agents with ONE WORD.


Shawn Eaton: Energized.


Shawn has an energy and eagerness for life and real estate, which is seemingly boundless. Being a member of the NG Investments team, Shawn Project Manages multiple NG Investment projects simultaneously in addition to being an expert real estate agent in D.C. and Maryland. Having a love of interior design, the construction process, renovations, buying, and selling requires Shawn to always be on his toes and in the know. Always impressed by his willingness to help, our clients are always in awe of his ability to specialize in numerous aspects of real estate. The energy he exudes when working on our projects is palpable and infectious. We all look forward to seeing the finished results of NG Investment projects that he has spearheaded.
In addition to Shawn's energy that he puts into his work with our projects and clients, Shawn is also big energy goals in his personal life. Husband, son, nephew, and friend, Shawn spends his free time with his family, helping, guiding, and assisting with gardening, home décor, fixture selections, home refresh projects, and all manners of things. Always a sounding board, Shawn is energized and willing to jump in and help those in need of his services and expertise.
Thank you, Shawn, for all of your hard work with our NG Investments projects and for allowing your passion for our business's various aspects to be the driving force in our collective success. We appreciate your hard work and all the energy you bring to the NG family.
#TheNellisGroup #NellisGroup #Nellis#TheNellisGroupServesMetroDC #WashingtoniansBEST #DMVrealestate #WashingtoniansBest