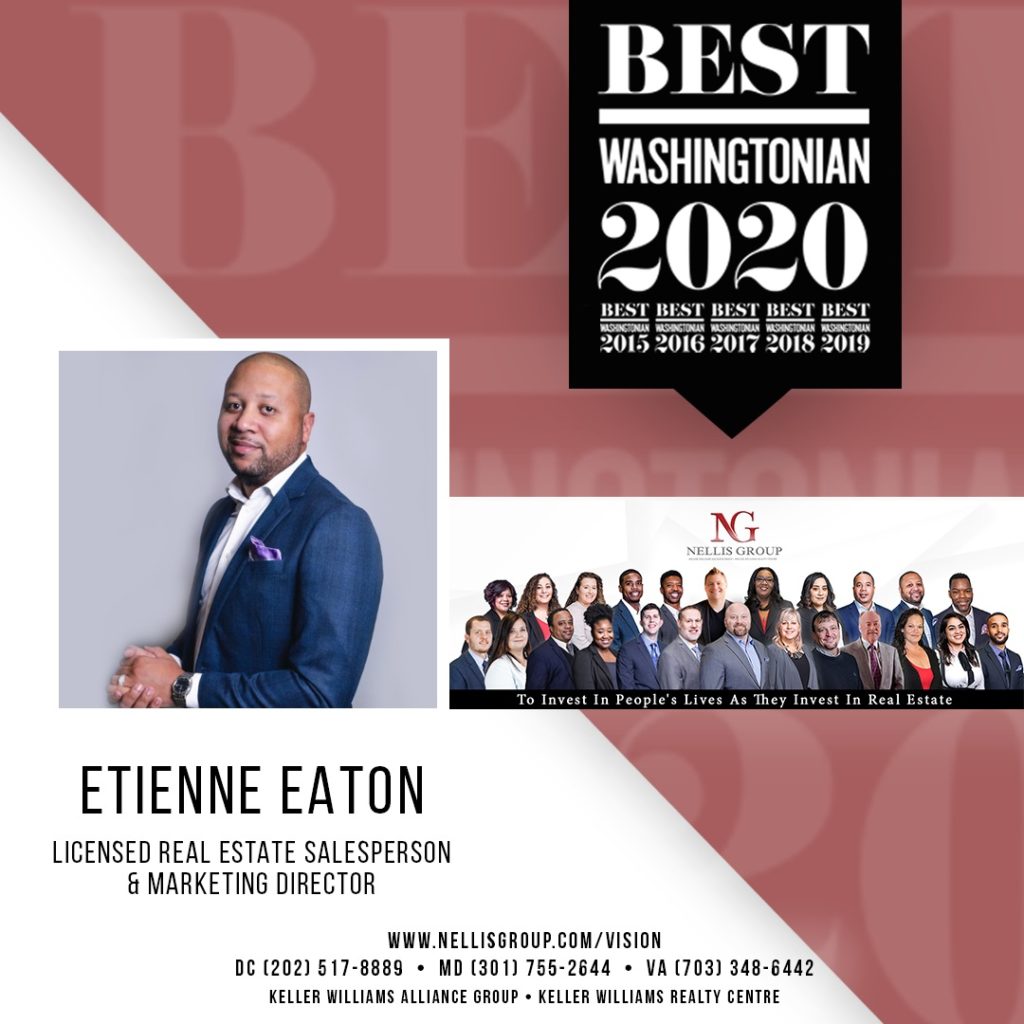 The Nellis Group continues our celebration of being chosen as The Washingtonian's BEST for the 6th year in a row by highlighting each of our expert agents with ONE WORD.


Etienne Eaton: Committed.


Etienne's commitment to his career with NG is steadfast and unshakable. Always up for a challenge, Etienne takes on numerous projects, clients, and various other tasks to ensure that the Nellis Group Machine stays on track and is continually progressing. In his time at The Nellis Group, Etienne has worn many hats and served in various capacities in service to our CEO, COO, NG agents, and our mission.
Initially starting his NG journey as the Marketing Content Curator and a licensed D.C. real estate agent, Etienne's commitment to NG has graciously earned him the responsibility and title of Marketing Director and Brand Manager. Always up for a challenge, Etienne continues to serve as a full-time Realtor in addition to his other numerous responsibilities here at NG. Etienne genuinely loves his job and the people that he works with. His love of what he does is evident in the quality and care of his work.
In addition to being a committed member of the NG management team and a real estate expert, Etienne is committed to his family. A dedicated husband, friend, confidant, and ally, Etienne works hard, loves hard, and plays hard. He is always looking for new recipes to try, foods to taste, restaurants to rate, books to read, and homes to redesign or decorate. However, his favorite thing is having new adventures with his spouse, Shawn, and it's almost always real estate related!
Thank you, Etienne, for everything you contribute to the NG family and your commitment and dedication. We appreciate you and are looking forward to seeing what's next!
#Washingtonian #WashingtonianBEST #TheNellisGroup #NellisGroup #Nellis #TheNellisGroupServesMetroDC #WashingtoniansBEST #DMVrealestate