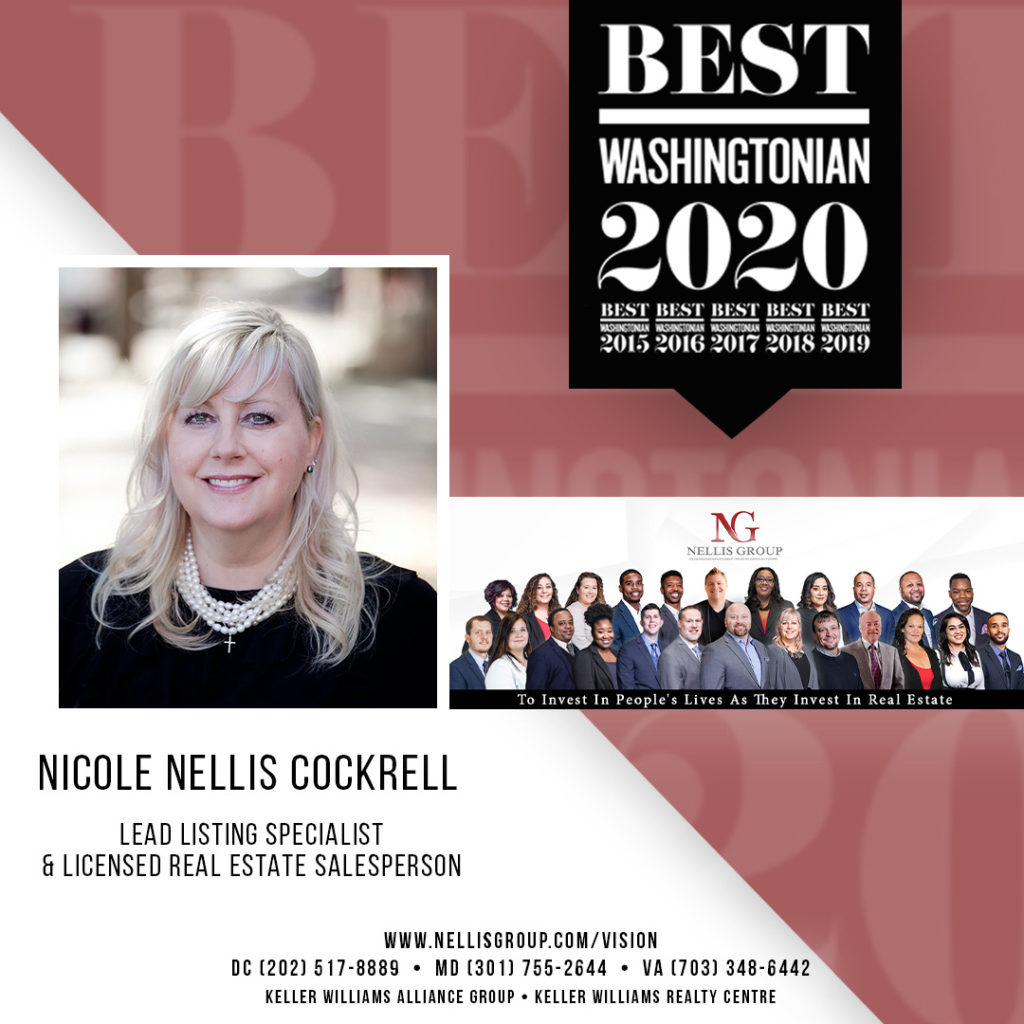 The Nellis Group continues our celebration of being chosen as The Washingtonian's BEST for the 6th year in a row by highlighting each of our expert agents with ONE WORD.

Nicole Nellis Cockrell: Accomplished.

Nicole is an accomplished real estate expert. She is a skilled negotiator (Harvard trained,) gives sound counsel on pricing, can maximize renovation returns, de-escalate crisis, and handle all of the nuances of being a Realtor with effortless ease; accomplished is truly HER word.
Nicole has been in real estate for over 18 years. Initially starting as a buyer's agent, Nicole has since moved on to become the Lead Listing Agent at The Nellis Group. Her honest and caring approach makes her a trusted advisor during the real estate journey. Like her mom and dad before her, service runs deep in the Nellis DNA. Words her clients have used to describe her are "patient," "knowledgeable," "strategic," and, most of all, "fun." Nicole is always ready to support the other NG agents when facing difficult or unusual circumstances that arise from time to time. Being accomplished also makes Nicole a sounding board for her brother and Nellis Group CEO, James.
Nicole's accomplishments don't just end with NG, she is also an accomplished real estate mom. Nicole lives in Northern Virginia with her husband, Keith (also a member of the NG team,) her two children, Max and Saige, and her beloved rescued German Short Haired Pointer, Allie. Allie was rescued from their favorite shelter, the Animal Welfare League of Alexandria. Nicole's local activities include her women's bible study, being a member of Immanuel Christian Bible Church, and her book club. In her free time, she enjoys cheering her kids on, hanging out with Keith, being a big sister to James, working out, spreading the joys of spaghetti pizza, and everything chocolate and traveling.
Thank you, Nicole, for everything you do for the NG family and for being so adept at handling our clients' needs.
#TheNellisGroup #NellisGroup #NellisGroupServesMetroDC #TheNellisGroupServesMetroDC #WashingtoniansBest #DMVrealestate